News
The Solicitors' Charity Big Report highlights 50% rise in support last year
We helped 50% more new clients in 2022
All primary clients received one-off awards to help with the cost-of-living crisis
Funding for 284 solicitors to access emotional wellbeing or mental health support
Statistics and trends revealed in The Solicitors' Charity Big Report have highlighted a significant increase in the number of legal professionals who have been newly supported over the past year.
Our charity helped 50% more new clients in 2022, who accessed emotional wellbeing and mental health care, financial advice and support, benefits advice and career transition counselling, provided through our own caseworkers and partner services.
Almost £1million was spent on funding support to solicitors, and their dependants, in England and Wales during the past 12 months. The annual Big Report shows that our charity awarded £962,229 – with an additional £25,316 in secured loans – to help people in the solicitors' profession who were in need or crisis. In 2021, we awarded £1,024,218, which included some ongoing Covid-19 support.
Payments were a mix of one-off financial awards covering a range of necessities, such as household equipment, medical aids and adaptations to housing; grants and payments to partner organisations to provide services; and living allowances. This range allows us to provide the support that really matters to solicitors in need.
To help address the impact of the cost-of-living crisis, in Spring 2022 we made additional one-off payments to help all our primary clients with their domestic fuel bills. In the autumn, we increased our daily living allowance rates in line with changes to the Joseph Rowntree Minimum Income Standard, averaging a 20% increase.
The number of new clients experiencing multiple health conditions increased by 50% last year – and there were 60% more new cases where clients had mental health issues, compared to the year before. The Big Report shows that 27% of all primary clients were experiencing mental health issues, 34% had multiple health conditions or disabilities whilst only 27% had no health conditions.
Download your copy of the Big Report
Working with our partners, we funded access for 284 solicitors to LawCare for mental wellbeing support. Mental health assessments, with the possibility of subsequent therapy, were carried out for 8 clients by our new partners at One Bright mental health service; 7 clients accessed career transition counselling from Renovo; 21 clients benefited from AdviceWorks money management advice and a further 19 clients received welfare benefits or debt advice from Citizens Advice Manchester (CAM).
The Big Report illustrated that the majority of our new clients last year were aged 50 or below, with nearly half (47%) being aged between 31 and 50. New clients aged between 50 and 71 accounted for 34% of those we helped; 11% were aged under 30; and 8% were aged over 71. We also supported more women clients in 2022, compared to the previous year – 60% of our clients (new and existing) were women and 40% men. The vast majority (90%) of primary clients were current or former solicitors, and 10% were solicitors' dependents.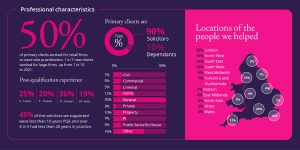 The annual report shows that 50% of our primary clients had worked for small firms or were sole practitioners. In 2022, 1 in 7 new clients had worked for large firms, up from 1 in 10 in 2021. Nearly half (45%) of the solicitors we supported had been practising for less than 10 years – 25% had post qualification experience of 0 to 5 years; 20% had 6 to 10 years' experience; while 36% of our clients had been in the legal profession for 11 to 20 years, and 19% had more than 20 years' experience.
A quarter (25%) of our new and existing clients were London-based, with 13% from the South East; 12% from the South West; 15% from the North West; 3% from the North East; 9% from the West Midlands; 4% from the East Midlands; 7% from the Eastern region; 7% from Yorkshire and Humberside; 2% from Wales and 3% from other areas.
A total of 40% of those we helped lived in rented accommodation. Significantly, although 64% of all our clients lived alone, only 46% of the new clients last year lived alone, indicating a rising number of couples and people with children getting in touch for support in 2022.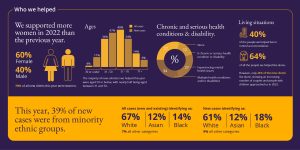 Research revealed that 39% of new cases over the past 12 months were from ethnic minority groups, though this was a fall from 54% in 2021. The overall percentage of people we supported from these demographic groups was 33%. These figures continue to be ahead of the representation of solicitors from ethnic minority groups in the profession. The figures showed that 61% of new clients were white (a total of 67% new and existing); 18% were black (14% new and existing); 12% were Asian (12% new and existing) and 9% were from other demographic categories (7% new and existing).
The Big Report 2023 shows that 30% of the solicitors we helped have worked in General Law; 12% of our clients have worked in Family Law; 10% in Property Law; 7% Civil Law; 5% Commercial law; 5% Criminal Law; 7% Personal Injury; 5% Public Sector Law; 3% Private and 16% other types of law. The Solicitors' Charity CEO Nick Gallagher said:
"I am delighted that this year's Big Report has shone a spotlight on the positive impact we have made in 2022 to an increased number of legal professionals needing support in times of hardship.

"Our charity helped 50% more new clients to access support and advice for their pressing needs. We are proud to have awarded a total of £962,299 to those solicitors facing financial and personal difficulties, particularly during the UK's cost-of-living economic downturn.

"The Big Report clearly demonstrates the activity that our charity has undertaken in the last 12 months and compares the new statistics to previous years, giving a clear view of the nature, volume and profile of support we deliver for solicitors when times get tough."
One of the clients helped by The Solicitors' Charity was London property conveyancer "Dan" (not his real name) who contacted us when he hit his lowest point – with no job, in debt and a family fallout which had left him homeless. The charity helped him on the first steps to recovery.
Temporary hotel accommodation was found, and Dan's caseworker helped him arrange to live in supported housing. Dan was also given a financial award to clear his debts, and a further award to help him with daily living costs until he found employment. The charity's caseworker also discussed the services he could be referred to for help with mental wellbeing,with career transition support and career advice for solicitors. 
"The financial support and accommodation provided by The Solicitors' Charity really helped me get back on my feet," Dan said.

"The best thing now is being debt-free, having a roof over my head and a warm room. If the charity hadn't been there for me, I don't know what would have happened. They've been massively helpful and a real lifesaver."